NEIGHBOURHOOD RESTAURANT – BAR – WINE CELLAR – CELLAR RESTAURANT
OPENING HOURS
Tue-Fri 11.30am-2pm and 5pm-12pm
Sat 2pm-12pm
4-8.4 We are serving from 5pm-12pm
EGO NEIGHBOURHOOD RESTAURANT
New stories.
Strong classics.
EGO NEIGHBOURHOOD RESTAURANT
New stories.
Strong classics.
Ego is a neighbourhood restaurant where you are always welcome – a laid-back place for everyone who enjoys good food, drink, company and stories.
As our head chef Kalle Tanner puts it, "Food should not be taken too seriously. A good feeling is reflected in how your food looks and tastes. Too much effort makes food superficial, lacking in soul and warmth. Good food can be not only delicious, but also a little playful."
We are located in a building modelled after the palaces of Florence, completed in 1889. We are not quite as fine as Florence, but we serve favourite classics – and create future favourites. Welcome!
LUNCH
Ego´s lunch are on a break 4-7.4
EGO´S LUNCH MENU 34€
Roasted bell pepper soup
Ego's fish cake with clam sauce and horseradish potatoes
Lemon panna cotta with orange caramel
BEST OF THE BEST
Beef tartar with egg yolk and ramson  19€ | 27€
Veal schnitzel, ramsons butter and french fries   32€
CLASSICS – ALWAYS
TO START WITH
Roasted beetroot with tarragon and salted lemon 14€
Potato pancake with crème fraiche and roe 16€
Pike perch and lobster vol au vent 21€
Tuna crudo chimichurri and sour cream 19€
Beef tartar with egg yolk and green pepper 19 | 27€
TO MIDDLE
Creamy cep soup 15€
Sage pasta 16 | 25€
MAIN
Roasted carrot and celeriac with pickeld and karamelised onion 25€
Fried herring with lappish potato pyre and dill butter 24€
Grilled beef liver, caramelized onion and lingonberry 27€
Veal schnitzel, ramsons butter and french fries 32€
Smoked char with sauteed leeks and ramsons veloutè 31€
Iberico pork cheek with cellery and black pepper sauce 28€
SWEET
Chocolate fondant and ice cream 14€
Orange crème brûlé 13€
White chocolate mousse with liqourice creem and sea buckthorn sorbet 13€
Ice cream or sorbet 6€
Selection of cheeses and home-made compote 7 | 15€
EASTER 2023
Menu available Fri 7.4 & Sat 8.4
Opening hours 5pm-12pm
Welcome to the Easter feast!
We think Easter is one of the best food celebrations of spring. That's why we will be open on Good Friday and Holy Saturday (7-8 April). Our head chef Kalle has designed a delicious four-course dinner menu for the festivities, featuring both classic ingredients and something truly new. Come and enjoy with your family and your friends!
Easter menu
Salmon crudo with kohlrabi and dill vinaigrette
Jerusalem artichoke soup with raw
Glazed lamb entrecôte with roasted carrot and harissa sabayon
Chocolate sorbet with orange creem and salted meringue
May day 2023
Two settings from 11.30am to 2pm & from 3pm to 6pm.
Now let's celebrate May Day!
The first of May and May Day – two great and wonderfully happy reasons to get together with friends and family for a treat. At Ego, we have a great opportunity to do just that, as our Head Chef Kalle has designed a three-course spring menu to celebrate the occasion.
We open our doors before noon on May Day, but you can still eat later, as we'll be offering two settings (11. 30am to 2pm and 3pm to 6pm).
Book your place soon!
EGO'S MAY DAY BRUNCH – 54 €
STARTERS
Charcoal grilled whitefish, egg and fennel
MAIN COURSE
Smoked char, shrimp potato and crayfish sauce
Or
Glazed Iberico pork, deep-fried potato and choron sauce
DESSERT
Chocolate mousse, rhubarb sorbet and almond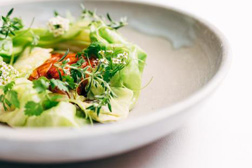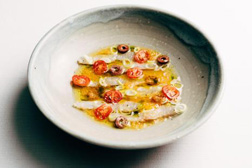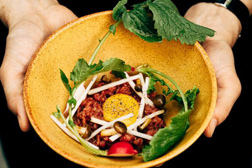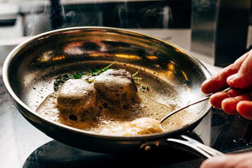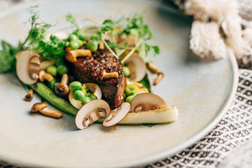 FACILITIES
Make yourself at home! The Ego neighbourhood restaurant is an extension of your living room, with a laid-back atmosphere that makes you relax. Take your pick: the street-level restaurant, bar downstairs, wine cellar or cellar restaurant.
You are always welcome here – on your own or with a friend or a larger group!
NEIGHBOURHOOD RESTAURANT – BAR – WINE CELLAR – CELLAR RESTAURANT